Westport Street View
Use the - and + on the first map to zoom in and zoom out.
Drag to position on the area you are interested in.
Drag the yellow peg man figure and blue lines will appear on streets that have a Street View.
Drop the yellow peg man figure on a blue line to get a Google Street View of that street.
The street view is shown beside the map or below the map.
Westport Central Map
Westport Driving Directions
Westport Maps
Westport Satellite View Maps
Tour Westport

Tour Westport Area
Westport Central Appartment
- Apartment.
Westport Central Appartment, a property with a terrace, is situated in Westport, 2.9 km from Carters Beach. This...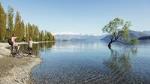 Flexible Fully Guided South Island Bus Pass- Christchurch to Christchurch return
- Maori - Christchurch.
Starting from $699.00 per person
.
Allowing you to see the South Island of New Zealand in a cost friendly and flexible way. This Hop-On Hop-Off flexible...